I just got home from Fall Quilt Market in Houston last night, and it was a BLAST! While I download my pictures and collect my thoughts for a proper blog post, allow me to catch up on some of my draft posts that I haven't had a chance to publish yet.
I think I've mentioned before that I serve as the "swap swami" (not my choice of title!) for the
Triangle Modern Quilt Guild
. That means I try to organize fun activities and swaps for all of the guild members.
Recently, I worked with the awesome, generous folks at
Robert Kaufman
fabrics to challenge the guild members with a fun challenge (hi, and thanks Allie!) Inspired by Tula Pink's
Project Plume
with the Kansas City Modern Quilt Guild, we provided each member of the guild with a
Ten Square
of the
Glam Garden
collection by Josephine Kimberling.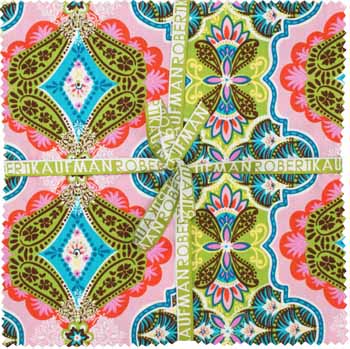 The challenge? Make a project of your choosing with the Ten Square and, if desired, only ONE additional fabric. The project could be anything -- a quilt, a mini quilt, a table runner, a bag, a garment ... anything! At our last meeting, we hosted the GLAM GARDEN GALA, where we all showed off the items we made with the fabric.
First, here's the item I made (and OMG, I just saw while researching the links for this post that someone used
the SAME pattern
for their Project Plume mini quilt!) The fabric I added was Kona Ash, and I was able to make a nice-sized baby quilt that I think would be perfect for a modern, sophisticated baby girl! (Not everything for babies has to be pink and pastel, right?)