I just couldn't stand seeing everyone having so much fun without me. So I'm jumping in ...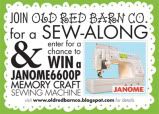 I have plenty of fabric to use, so I'm considering it a stash-buster. I hope to have some pictures of my fabrics tomorrow.
So if you're sitting on the fence too, consider yourself nudged. It's not too late -- come join us!